The last few years we have seen the rise of Augmented Reality (AR) which has attracted the interest of investors, companies and the general public. Augmented Reality is expected to disrupt several sectors, including retail, logistics, healthcare, tourism and manufacturing.
Augmented Reality enabled e-Commerce is the future of a more immersive online shopping experience. This innovation has a ton to add to the e-Commerce shopping experience.
The Digital space has grown exponentially in the last few years, and so have the online shopping experiences. State of the art advancements in AR and Virtual Reality (VR) technology have made their applications mainstream. We can find AR / VR Technology quite easily across gaming and web based shopping. It can provide customers with lively and immersive shopping experiences with 3D visualizations, virtual try-ons and product demos.
What is Augmented Reality?
Augmented reality refers to immersive technologies that blend the real-life environment with digital elements to enhance user experience and engagement.
AR can enhance real-world perception by coupling it with the digital world using computer-generated information and can produce an immersive and lively experience. It can produce and blend virtual objects such as 3D models with the real world through a live camera feed.
Augmented Reality in e-Commerce: The Stats
As indicated by PwC's Global Consumer Insights study, preceding the pandemic, shopping in-store was the predominant strategy for purchasers, with 47% of clients liking to shop for non-food items, contrasted with 30% who shopped via mobile phone.
Since the pandemic started, the number of people who shop online by means of mobile phone has expanded to 45% as per PwC's report, as well as a significant increase in the number of people who shop online through PCs and tablets.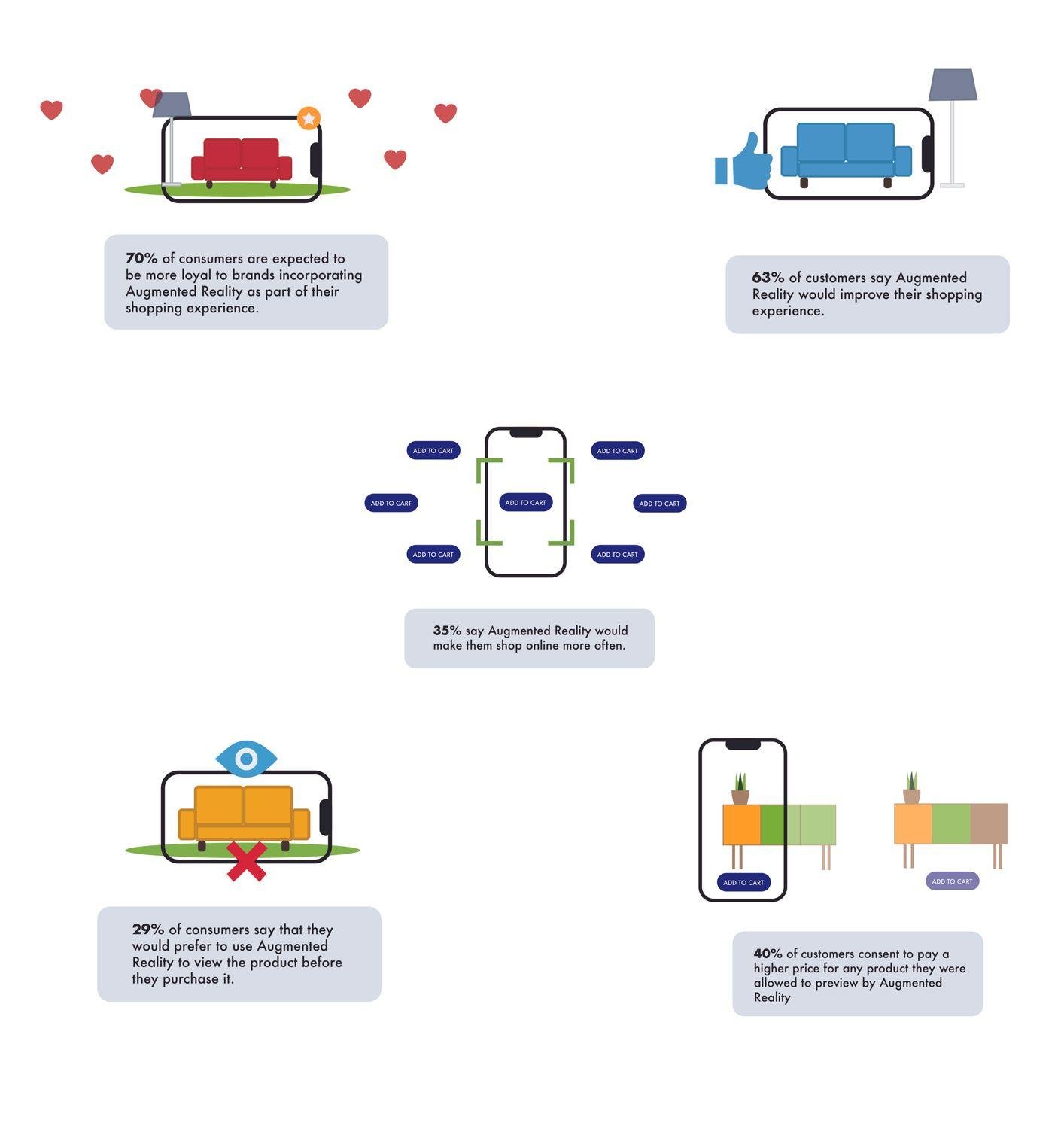 The COVID-19 pandemic has resulted in consumers changing how they shop and they now rely on e-Commerce for their purchases. With the restrictions continuing to bring a halt to customers being able to shop in-store and consumers increasingly relying on online shopping channels. This trend is likely to continue post the end of the pandemic due to the several benefits it offers.
Benefits of Augmented Reality in ecommerce
Immersive Product Experience
Implementing AR in e-Commerce can help online merchants by delivering more immersive product experiences through 3D visualizations, virtual try-ons, and product demos. It can help web-based retailers to convey more visual based information. In this manner, the clients can make faster online purchase decisions.
Customized Shopping Experience
Customization and personalization of items are the most widely recognized ways of further developing the client experience and conversion rate. Executing intuitive AR in e-Commerce or web based shopping can assist clients with decision making.
For example, customers can try on shirts of various varieties and check which variety suits them the most utilizing Augmented Reality.
Conversion Rates is one of the particular benefits of Augmented Reality in e-Commerce. The clients are bound to make a purchase decision in the event that they get a superior image of the item they will buy.
Involving Augmented Reality in e-Commerce, storekeepers can give customers a more vivid and interactive experience translating to a superior conversion rate.
Research found that the most common reason clients had returned the things they purchased was because of broken or damaged items. The second most common reason for returns was that the merchandise was not as depicted on the site. Incorporating AR in online sales can altogether diminish return rates by empowering clients to pick the right item for their requirements.
Future of e-Commerce using Augmented Reality
Some product categories can be a tough sell on e-commerce sites because it is difficult to interpret how the products will look in real life versus a computer or mobile screen. Implementing Augmented Reality early in an e-Commerce business will help you stay ahead of the competition.
AR Solution Provider
Xenvis Solutions www.xenvis.com